Coming to you from somewhere in between the twin poles of repellence and fascination; all while trying to avoid ending up on a Watch List.
¿Queries?
June 21, 2014
October 25, 2013
The Age of Drones
"There are people out there in the world, flying drones and being overflown by drones, making drones and being killed by drones. A proper definition of drones is not going to end this, regardless of which interest ends up defining the public's understanding of this nascent technology."
October 24, 2013
February 24, 2013
see also: Dronestagram
June 15, 2012
"Ultimately, Mitt Romney faces a dilemma: what must a Republican candidate do to outflank the extremism of his Democratic opponent? The rest of us must be concerned as well: we are sleepwalking into the Drone Age, and few people are debating the dire consequences."
—
(Source: Guardian)
May 23, 2012
May 2, 2012
Turning the doctrine of 'lawfare' against aggressors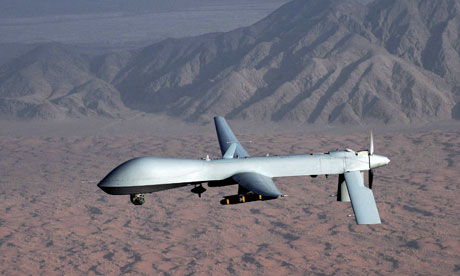 It's time the developing world realised that international law can be a powerful tool to resist superpower domination
May 1, 2012
April 30, 2012
April 29, 2012
White House approves broader Yemen drone campaign
The United States has begun launching drone strikes against suspected al-Qaeda operatives in Yemen under new authority approved by President Obama that allows the CIA and the military to fire even when the identity of those who could be killed is not known, U.S. officials said.
April 28, 2012
Unmanned
Casey Cooper Johnson (writer/director), Casey Fenton (producer), Peter W. Singer (story by), Sevdije Kastrati (cinematographer)

A young Air Force drone operator struggles to balance the stresses of going to war for the first time with the challenges of being a good father and husband, as he commutes each day between suburban family life and a new style of war fought by remote control. The short version of this film received an earlier Sloan Foundation production grant and ispremiering at this year's Festival.  
April 27, 2012
April 26, 2012
Obama's secret drone war explained
(Source: reuters.com)
April 25, 2012
How Obama's drone war is backfiring
The administration's excessive use of drone attacks undercuts one of its most laudable policies: a promising new post-9/11 approach to the use of lethal American force, one of multilateralism, transparency and narrow focus.
April 24, 2012
"History affords few if any examples of a free people — in such a powerful country, under no existential threat, undergoing no invasion, no armed insurrection, no natural disaster or epidemic or societal collapse — giving up their own freedoms so meekly, so mutely. Most Americans like to boast of their love of freedom, their rock-ribbed independence and their fiercely-held moral principles: yet they are happy to see the government claim — and use — the power to murder innocent people whenever it pleases while imposing an ever-spreading police state regimen on their lives and liberties."